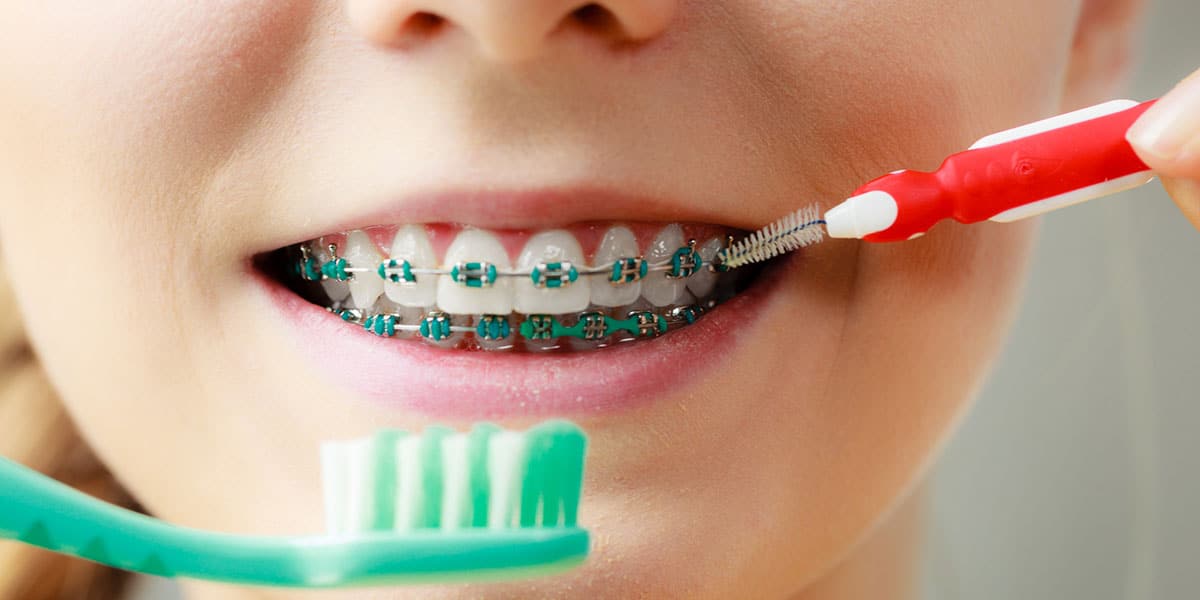 ---
---
Wearing Braces and orthodontic appliances will soon become a part of your daily life and within 1-2 weeks, you will become accustomed to having something on your teeth. Braces require extra attention when cleaning your teeth and eating some foods can damage the braces. 
---
Certain foods can damage your braces, prolonging treatment, or get underneath the braces causing cavities. Food and drinks with a lot of sugar should be avoided to prevent cavities as well. The orthodontic motto is "Nothing Sticky, Nothing Chewy, and Nothing Hard."
Sticky and chewy foods:
Gum, sugarless and otherwise
Caramels
Caramel apples
Toffee
Now and Laters®
Taffy
Tootsie Rolls®
Starbursts®
Gummy bears
Swedish Fish®
Skittles®
Sour Patch Kids®
Licorice
Hard Foods:
Nuts
Popcorn
Hard candy
Corn on the cob
Ice
Jerky
Corn chips
Bagels
Pizza crust
Hard pretzels
Apples (unless sliced or cooked)
carrots (unless sliced or cooked)
In addition, chewing on pens, pencils, fingernails, mouth guards, and clothing will damage your braces.
After eating always check your braces for any loose or broken appliances. If you find any problems, please give our office a call so that we can make any needed adjustments.
Tooth brushing should be done 3 times every day. Brushing at school is not always possible, yet when you first get home or after a snack is a great time to brush your teeth. Proper brushing with braces takes 3 minutes; you should use the timer we provided. The toothbrush bristles need to be pointed underneath the wire and wings of the braces to get your teeth clean. You must brush your teeth from above and below the braces on your teeth. Don't be afraid to brush your gums. If your gums bleed that is not a sign that you are brushing too hard, but shows you are leaving plaque on your teeth. You need to brush for longer and more often. Poor tooth brushing can lead to white spots, decalcifications, on your teeth that can be permanent. White spots are the beginning of a cavity.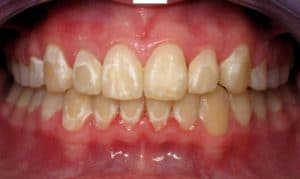 Plaque disclosing tablets help you learn how to brush properly. Chew the pink tablet, swish the spit around your mouth while rubbing your tongue on your teeth, then spit. Look in the mirror, any pink spots you see on your teeth show you where you need to brush better. Brush your teeth with toothpaste to remove the plaque that is stained pink.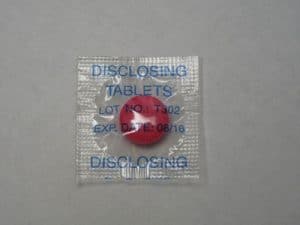 A Proxy Brush is used to clean between the wires and your teeth or gums.  Push the proxy brush underneath the wire then back and forth to get plaque and food particles loose, then brush or rinse to flush out the material.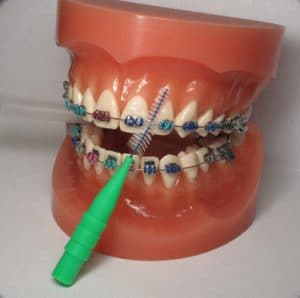 Flossing with braces is possible if a floss threader or Super Floss® from Oral-B® is used. Tie a piece of floss to the floss threader, and then use the plastic floss threader to get the floss underneath the wire. Once the floss is under the wire, the floss can be pushed between the teeth and moved up and down all the way to the gums. Take the floss out and repeat between the next teeth over. Super Floss® is a single piece of floss with a plastic coated end that can be used the same way without having to tie the floss onto a threader.
A Fluoride Rinse or anticavity rinse, such as Act® should be used every night before bed to help prevent white spots. Measure 10 millileters or 2 teaspoons into a small cup like the one that comes with liquid medicines. Swish the rinse around the mouth for 1 minute then spit out. Do not eat, drink, or rinse with water for 30 minutes after using the fluoride rinse.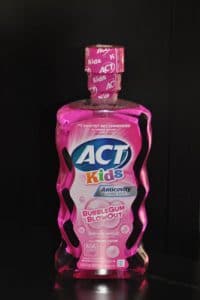 Dental wax can be very helpful with any areas that are irritating your mouth or gums. This can be especially helpful at night when sleeping when your mouth may get drier than during the day time when you can regularly hydrate.
Elastics are prescribed during orthodontics to achieve the proper fit between the upper and lower teeth. Good elastic wear can make the difference between a great result versus just an acceptable finish. Elastics that are instructed to be worn full time should be taken off only to eat, to brush your teeth, and when you are playing a sport that requires a mouth guard. This means that you should wear the elastics while you sleep. When you take your elastics off, your teeth start to return to their previous position. This is like rowing a boat up stream; if you stop paddling, you float back to where you started.
You should never be without elastics. Keep an extra bag of elastics in school or at work. Set a reminder on your mobile device to make sure you put the elastics on. When you take your elastics off, place a new one on your pinky finger as a reminder to put the elastics back on. Always make sure you have enough to last you to your next visit. If you are running out, please call the office so that we can arrange a convenient time for you to pick up some more or simply come by during normal business hours. Yes, it is that important to us to that we achieve the best results possible!
For your clear aligners to work properly, aligners must remain snug against your teeth for a minimum of 18-20 hours per day. This means only removing them for meals and to brush your teeth. They should be worn during the time you are sleeping as well. This includes faithful wear of your elastics if indicated during your treatment. Your clear aligners will be changed on a weekly basis unless other instructions are indicated by Dr. Silversmith. Your teeth will not move into proper alignment if aligners are not worn for the appropriate time. Click here for complete instructions.
Keep these materials on hand to help with the most common orthodontic maintenance and minor emergencies:
Interdental or Proxabrushes fit between teeth and help patients to clean around wires without damaging them.
Non-medicated orthodontic relief wax can be placed over brackets or wires that may be irritating gum tissues. This can be especially helpful at night when sleeping when your mouth may get drier than during the day time when you can regularly hydrate.
Antibacterial Mouthwash can be used to reduce inflammation and prevent infection. For minor sores in the mouth, Peroxyl, an antiseptic rinse containing hydrogen peroxide may be used up to 4 times per day after brushing. Refer to the product label for specific instructions.
Dental floss, an interproximal brush or a toothpick can be used for removing food that gets caught between teeth or wires.
Sterile tweezers can be used to replace orthodontic rubber bands that have come off.
A Q-tip or pencil eraser can be used to push a wire up against a tooth if it has come loose and is irritating the cheeks or gums. If it is not possible to reposition the wire so it is more comfortable, place wax over the end of the wire and call our office so that we can set a time to have the wire adjusted and put back into place.
Salt is used for warm salt-water rinses, which help heal sore gums and tissues in the mouth.
Non-prescription pain relievers, such as acetaminophen or ibuprofen, can help with the temporary discomfort that sometimes occurs for the first day or two after an orthodontic adjustment.
Topical Anesthetic Treatments, such as Orabase or Ora-Gel, can be applied with with a Q-tip to any abrasions or sores in the mouth should they occur.
Tooth brushing expanders and lingual arches require cleaning the bars along the inside of the teeth and across the palate. Never play with the bars with your tongue nor try to push your tongue between the expander and the top of your mouth. This will break or loosen the appliance. Spaghetti and warm stringy cheese are difficult to swallow with expanders. Over the first day you will experience extra saliva in your mouth. You will need to think about swallowing by placing your tongue up behind your front teeth and then swallow. This is different than usual, you swallow throughout the day without thinking about it. Speaking may sound and feel funny at first; you will get better at it, try reading out loud for practice.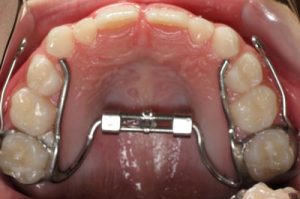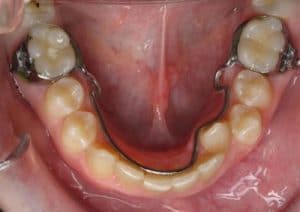 The MARA is designed to correct your overjet (overbite) by advancing the lower jaw when you bite.  At first your teeth will not fit together well and your back teeth will be separated.  This will improve after a few weeks.  During the adjustment period, you should eat a soft diet that can include soups, smoothies, yogurts, and oatmeal.  Otherwise, foods to avoid are the same as for braces.  A general rule is to take small bites and cut food into small pieces that can be swallowed.  You need to bite forward after the MARA is adjusted.  Do not play with the parts of the appliance with your hands or with your mouth.  Playing with the MARA will cause it to break, which will require repair and extend your treatment.  Cheek irritations from the MARA should be treated with wax and warm salt water rinses.  Space can develop between your teeth when the MARA is working.  These spaces will be closed with your braces.
---